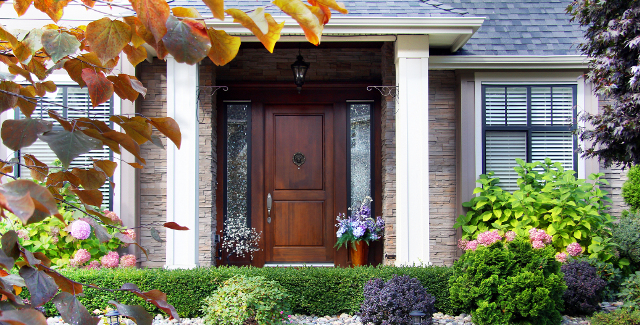 What's one of the first things you notice when you look at a house online or simply drive or walk by? The front door, that's what.
Whatever the reason, your front door and the impression it makes are huge factors in what people think of your entire home. So, knowing that, what are you doing to make the impression you really want to?
Color up. For starters, make the color pop. Rich yellows, bright blues, deep greens, tasteful reds—these are the colors that draw people's eyes and make them remember your house. Even if you have a storm door partially blocking the view, the colored background will leave a visual impression that's hard to beat.
Decorate. In addition, seasonal decorations rarely fail to draw a second admiring look to a front door. Whether spring, fall, Thanksgiving or Christmas, hanging a bright plant arrangement or wreath adds a lovely touch that says you truly care about the aesthetic details of your home.
Light touch. Whether from above, the side or below, lighting your front door at night offers a touch of class that makes your home look warm and inviting. And if you've added one of the aforementioned colors or arrangements, lights will keep them visible, no matter the hour.
Let your wheels turn and your creative juices flow. Brightening your front door is an excellent chance to make a great impression with your entire home.